SS19 TREND REPORT
February 13 2019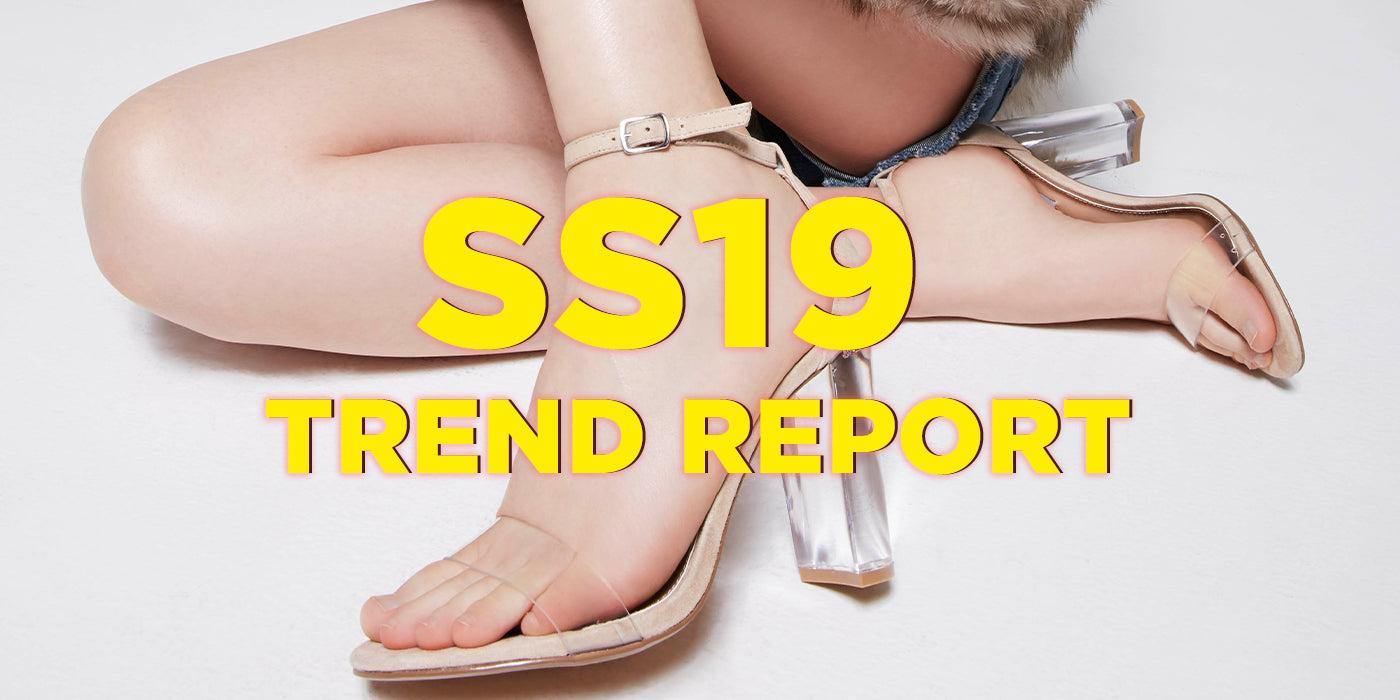 Oh, hey you. Getting ready before the fashion game begins? Then it's time to do some research, right? No worries, here's an overview of the best trends this season. This is just the warming up ladies! This trend report will provide you with all the details for fashion trends 2019. You will be prepared for this season, believe me.
Everything is clear
Clear shoes will be the new trend of Spring/Summer 2019. Have you noticed that we show our skin more often these day? Yes, we're accepting ourselves and others so much more than ever before. Self-love is getting bigger and bigger! Be proud of your skin and show it! It never looked this good. Complete your bomb-ass look with Clancy, Meltdown or Chelsea. The party starts when you walk in with these transparent heels. Not only made to be worn at parties, but also super sexy to wear on a lovely spring day. Shop all Everything is clear shoes.
Nudes, nudes and nudes
Nude is (yes, still) hot! These natural colours will be the base of all fashion trend reports this season. This nude trend is all about fading into the skin. As if the shoes were specially designed for you! They match your skintone and they look so gorgeous on every outfit! Makes it look like the shoe = basically you! The Daisie will look good on that special meeting you have on Thursday. For your daily day basis, the Zela and Simmer are just one of a kind. I mean, look at them! Or you can earn some more respect with our Respect. You have to start somewhere, right? Shop all the trend report shoes now!!!
Old School Sneakers

Platform sneakers are the new trendsetters. These dad shoes refreshes your daily looks without doing any affort. The styles from the 90s are back again! Back in the days, you were the shit when you had chunky 'ugly' sneakers like this. Create this look with the Girla, Mature or Memory. Old school sneakers is the new hype. The thicker the sole, the better the attitude! Shop all Old School Sneakers shoes.


Rock 'n Roll, baby
Oh yes, you need biker boots in your life! These biker boots with studs, buckles and cut-outs are the realest things you need for your rock-chick vibe. The Lofter and Conspire will bring the most confidential appearance ever. More a fan of heels? Then you definitely need the Powered or Yip in your closet! Get in, get out, there is no inbetween. Are you though? Well, get yourself together because it's going to get really rocky with these biker boots! Shop all Rock Babe shoes.